Dr. Sanjeeva Srivastava
Professor
Phone: +(91-22) 2576 7779
E-mail: sanjeeva [at] iitb.ac.in
Location: Room No. 304, BSBE Building
Lab web page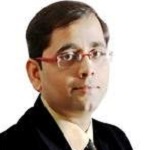 Proteomics describes the study and characterization of complete set of proteins present in a cell, organ or organism at a given time. My laboratory is using high throughput proteomic techniques such as two-dimensional difference in gel electrophoresis, mass spectrometry and protein microarray etc. for biomarker discovery in cancer & tropical diseases of India such as malaria, to study protein-protein interactions and drug target discovery. Information obtained from research program is also used for in silico studies and computing models to enhance our understanding in systems approach.
Ph.D. University of Alberta, Canada (Nov-2006)
Post-doc, Harvard Institute of Proteomics, Harvard Medical School, USA (2007-2009)
Proteomics: Principles and Techniques, Topics in Biotechnology II, Cellular and Molecular Biology (Institute elective)
Assistant Professor, IIT Bombay, India (2009 onwards)
Guest professorship – Central South University, China (May 2012)
IIT Bombay Young Investigator of the Year 2011 (April 2012)
Young Scientist Award DAE-BRNS (April 2010)
DST-SERC Fast Track for Young Scientists (March 2010)
Apple Research Technology Support (ARTS) award, UK (May 2009)
Young Faculty Award IIT Bombay (March 2009)
National Young Scientist Award, Canada (2005)
Robert Simonet Graduate Award, Canada (2005)
Srivastava S.(with 6 co-signatories) Online education: E-learning booster in developing world. Nature 2013, 501(7467), 316.
Ray S, Moiyadi A, Srivastava S. Biorepositories for cancer research in developing countries.     Nat Rev Clin Oncol. 2013,10, 434-436.
Srivastava R, Ray S, Vaibhav V, et al., Srivastava S. Serum profiling of leptospirosis patients to investigate proteomic alterations. J Proteomics. 2012,76, 56-68.
Ray S, Koshy NR, Diwakar S, Nair B, Srivastava S.Sakshat Labs: India's virtual proteomics initiative. PLoS Biol. 2012, 10(7), e1001353.
Ray S, Renu D, Srivastava R, et al., Srivastava S. Proteomic investigation of falciparumand vivax malaria for identification of surrogate protein markers. PLoS One 2012, 7(8), e41751.
Gollapalli K, Ray S, Srivastava R, et al., Srivastava S. Investigation of serum proteome alterations in human glioblastoma multiforme. Proteomics 2012,12(14), 2378-2390.
Ray S, Kamath KS, Srivastava R, et al., Srivastava S. Serum proteome analysis of vivax malaria: An insight into the disease pathogenesis and host immune response. J Proteomics.2012, 75, 3063-3080.
Srivastava S, Patankar S, Ray S, Renu D, Dikshit JB, Subramanian K, Gogtay N, Thatte U, Taur S. Identification of surrogate protein markers for falciparum and vivax malaria using proteomic approaches [IPA No. 2195/Mum/2012; Filed on 31 July 2012].
Srivastava S, Srivastava R, Ray S. A proteomic approach for identification of protein biomarkers in leptospirosis [IPA No. 1907/MUM/2012; Filed on 02 July 2012].
 
Deputy Editor-in-chief: Current Pharmacogenomics and Personalized Medicine
Associate Editor:

Journal of Integrated OMICS.
The International Journal of Biotechnology Applications
The International Journal of Drug Discovery
International Journal of Proteins and Peptides
International Journal of Systems Biology