Phone: +(91-22) 2576 7743
E-mail: shamiks [at] iitb.ac.in
Location: Room No. 605, BSBE Building
Lab web page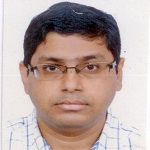 One of the most important breakthroughs of this post-genomic era is the finding that in addition to chemical cues, cell behaviour is equally susceptible to physical cues of the environment, including the geometry, topography and physical properties of the extracellular matrix (ECM). From embryonic development to cancer, physical forces play an important role in modulating cell processes including cell sorting, proliferation, differentiation and angiogenesis. The broad goal of my research plan will be to understand how physical forces influence cell and matrix mechanics through a combination of experimental and computational techniques. To contribute to this understanding, I will explore how development and cancer progression are regulated by the physical crosstalk between the cell cytoskeleton and the ECM.
B.E. in Mechanical Engineering (1999) from Jadavpur University, Kolkata
M.Tech in Mechanical Engineering (2002) from IIT Kanpur
Ph.D. in Mechanical Engineering (2007) from University of Pennsylvania in Philadelphia
Biostatistics, Introduction to Biomechanics, Cell Mechanics & Mechanobiology
Associate Professor: IIT Bombay, May 2017 – present
Assistant Professor: IIT Bombay, July 2009 – April 2017
Post-doctoral fellow : California Institute for Quantitative Biosciences (QB3), University of California, Berkeley. Worked with Prof. Sanjay Kumar
BRNS Young Investigator Award (2011)
2010 Best Oral Presentation Award, Biomechanics, UC Systemwide Symposium, Davis, CA
2002-7 Graduate Research Assistantship, University of Pennsylvania
2000-2 Graduate Research Assistantship, IIT Kanpur
1994 Qualified for National Mathematics Olympiad, India
Srinivasan S.*, Ashok V.*, Mohanty S., Das A., Das S., Kumar S., Sen S.#, Purwar R.#, "Blockade of Rho-associated protein kinase (ROCK) inhibits the contractility and invasion potential of cancer stem like cells", Oncotarget, 2017 (*: contributed equally. #: co-corresponding authors).
Sthanam L. K., Barai A., Rastogi A., Mistari V. K., Maria A., Kauthale R., Gatne M. , Sen S., "Biophysical regulation of mouse embryonic stem cell fate and genomic integrity by feeder derived matrices", Biomaterials, 2017.
Kumar S., Kulkarni R., Sen S., "Cell motility and ECM proteolysis regulate tumor growth and tumor relapse by altering the fraction of cancer stem cells and their spatial scattering", Physical Biology, 2016.
Reeba S. J.*, George E*, Singh P. K., Salot S., Anoop A., Jha N. N., Sen S.# and Maji S. K.#, "Cell adhesion on amyloid fibrils lacking integrin recognition motif", Journal of Biological Chemistry, 2016 (*: contributed equally. #: co-corresponding authors).
Kumar S., Kapoor A., Desai S., Inamdar M. M.#, Sen S.#, "Proteolytic and non-proteolytic regulation of collective cell invasion: tuning by ECM density and organization." Scientific Reports, 2016 (#: co-corresponding authors).
 
Professional Affiliations
American Society of Cell Biology (ASCB)
Biomedical Engineering Society (BMES)  
Biophysical Society (BPS)
American Society of Mechanical Engineers (ASME)
 
Reviewer in International Journals
Journal of Biorheology, Journal of Biochips and Tissue Chips