Dr. Rahul Purwar
Associate Professor
Phone: +(91-22) 2576 7737
E-mail: purwarrahul [at] iitb.ac.in
Location: Room No. 302, BSBE Building
Lab web page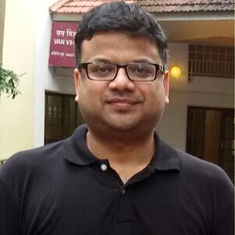 Tumor Immunology, Cancer biomarker
M.Sc.(Biochemistry): University of Lucknow, India (2000)
Ph.D.(Molecular Medicine): Hannover Medical School, Germany (2006)
Postdoc fellow at Hannover Medical School, Germany (2006-2007)
Research Fellow at Harvard Medical School, USA  (2007-2012)
Scientist II at ImmunoGen Inc. Waltham, MA, USA  (2012-2013)
2012 – The Melissa K. Bambino Memorial Award by The Skin Cancer Foundation.

2007 – HBRS Prize (best PhD) by Hannover Biomedical Research School, Hannover, Germany.

2006 – Poster Prize by Global Allergy and Asthma European Network (GA2LEN/EAACI), Hannover, Germany.

2006 – ECARF Award by European Center for Allergy Research Foundation, Germany.

2005 – Travel Award by European Society of Dermatology Research (ESDR), in Tubingen, Germany.

2005 – Travel Award by EAACI in Davos, Switzerland.

2001 – Research Fellowship by CSIR/UGC, India.
Recent Selected Publications
Khan AN, Chowdhury A, Karulkar A, Jaiswal AK, Banik A, Asija S, Purwar R*. Immunogenicity of CAR-T Cell Therapeutics: Evidence, Mechanism and Mitigation. Front Immunol. 2022, *Corresponding author
Kumar S, Dhamija B, Marathe S, Ghosh S, Dwivedi A, Karulkar A, Sharma N, Sengar M, Sridhar E, Bonda A, Thorat J, Tembhare P, Shet T, Gujral S, Bagal B, Laskar S, Jain H, Purwar R. The Th9 Axis Reduces the Oxidative Stress and Promotes the Survival of Malignant T Cells in Cutaneous T-Cell Lymphoma Patients. Mol Cancer Res. 2020Apr;18(4):657-668. PubMed PMID: 31996468.
Srinivasan S, Das S, Surve V, Srivastava A, Kumar S, Jain N, Sawant A, Nayak C, Purwar R. Blockade of ROCK inhibits migration of human primary keratinocytes and malignant epithelial skin cells by regulating actomyosin contractility. Sci Rep. 2019 Dec 27;9(1):19930. doi: 10.1038/s41598-019-56447-2.
Mogha P, Srivastava A, Kumar S, Das S, Kureel S, Dwivedi A, Karulkar A, Jain N, Sawant A, Nayak C, Majumder A, Purwar R.Hydrogel scaffold with substrate elasticity mimicking physiological-niche promotes proliferation of functional keratinocytes. RSC advance 2019 Apr 2;9(18):10174-10183. This work was highlighted in "The Hindu" on April 6th 2019: Title "Now, culture more skin cells in less time"
Das S, Srinivasan S, Srivastava A, Kumar S, Das G, Das S, Dwivedi A, Karulkar A, Makkad K, Bilala R, Gupta A, Sawant A, Nayak C, Tayalia P, Purwar R. Differential Influence of IL-9 and IL-17 on Actin Cytoskeleton Regulates the Migration Potential of Human Keratinocytes. The Journal of Immunology. 2019April 1;202(7):1949-1961 
Dwivedi A, Karulkar A, Ghosh S, Rafiq A, Purwar R. Lymphocytes in Cellular Therapy: Functional Regulation of CAR T Cells. Frontiers in Immunology. 2019 Jan 18;9:3180. PubMed PMID: 30713539.
Srinivasan S, Ashok V, Mohanty S, Das A, Das S, Kumar S, Sen S, Purwar R. Blockade of Rho-associated protein kinase (ROCK) inhibits the contractility and invasion potential of cancer stem like cells. Oncotarget. 2017 Mar 28;8(13):21418-21428. This work was highlighted in The Hindu on 25th March 2017: Title "IIT Bombay researchers find a novel target for blocking cancer metastasis".
Dwivedi A, Kumar S, Purwar R. B16 Lung Melanoma Model to Study the Role of Th9 Cells in Cancer. Methods Molecular Biology. 2017;1585:217-222. doi:10.1007/978-1-4939-6877-0_17. PubMed PMID: 28477199.
Purwar R, Schlapbach C,Xiao S, Kang HS, Elyaman W, Jetten AM, Khoury S, Fuhlbrigge RC, Kuchroo VK, Clark RA,Kupper TS: Robust tumor immunity to melanoma is mediated by IL‐9 producing T cells. Nat Med. 2012 Aug;18(8):1248-53 This work is appeared on numerousmedia websites around the globe including Fox news, NPR, Wall Street Journal, Zee news, Times of India, and The Hindu etc. (Impact factor 2012: 24.3)
Ad hoc reviewer: 1) Journal of Immunology, 2) Pediatric dermatology, 3) Journal of Investigative dermatology, 4) International Archives of Allergy & Immunology, 5) Dermatology.