Dr. Soumyo Mukherji
Professor
Phone: +(91-22) 2576 7767
E-mail: mukherji [at] iitb.ac.in
Location: Room No. 301, BSBE Building
Lab web page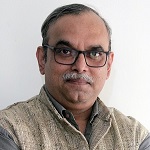 Biosensors and Bioinstrumentation: This includes physical, chemical and biological sensing systems (macro and micro) for medical / biological applications and well as telemedicine systems.
Cardiac Electrophysiology: The electrochemical events leading to and happening during  acute myocardial ischemia and infarction
B.Tech. Instrumentation Engineering, IIT-Kharagpur
M.S. Colorado State University (Fort Collins, USA)
PhD. University of North Carolina (Chapel Hill, USA)
ASSOCIATE PROFESSOR  BIOMEDICAL ENGG., IIT BOMBAY
PROFESSOR DEPARTMENT OF BIOSCIENCES & BIOENGINEERING, IIT BOMBAY
Board of Governors Fellowship of the University of North Carolina at Chapel Hill (1992-1995)
Awards from Jagadish Bose National Science Talent Search (1986) and Association for Improvement of Mathematics Teaching (1984)
DST Young Scientist Award, 1999
Anjali Khatri, Arvind Dhawangale, Soumyo Mukherji, "Single step, mould-free fabrication of polymer optical wave guides for localized surface plasmon resonance based sensing platform", Sensors and Actuators B (Chemical) https://doi.org/10.1016/j.snb.2018.10.041
S Chandra, A Dhawangale, S Mukherji, "Hand-held optical sensor using denatured antibody coated electro-active polymer for ultra-trace detection of copper in blood serum and environmental samples". Biosensors and Bioelectronics 110, 38-43.
B Karunakaran, J Tharion, ARDhawangale, D Paul, S. Mukherji, "Fabrication of miniature elastomer lenses with programmable liquid mold for smartphone microscopy: curing polydimethylsiloxane with in situ curvature control,"  Journal of biomedical optics, 2018.
Khatri, Anjali; Punjabi, Nirmal; Ghosh, Dhiman; Maji, Samir K; Mukherji, Soumyo, "Detection and differentiation of α-Synuclein monomer and fibril by chitosan film coated nanogold array on optical sensor platform" Sensors and Actuators B: Chemical Vol 255, 2018, pp 692-700.
Mondal, Debasmita; Paul, Debjani; Mukherji, Soumyo "Impedance Spectroscopy-Based Detection of Cardiac Biomarkers on Polyaniline Coated Filter Paper," IEEE Sensors Journal, Vol. 17 16:, 2017, pp. 5021-5029.
Sutapa Chandra, Reshma Bharadwaj, Soumyo Mukherji, "Label free ultrasensitive optical sensor decorated with polyaniline nanofibers: characterization  and immunosensing application", Sensors & Actuators: B. Chemical, 240, 443-450, 2017.
Nidhi Paliwal, Nirmal Punjabi, Joseph John, Member, and Soumyo Mukherji, "Design and Fabrication of Lossy Mode Resonance Based U-Shaped Fiber OpticRefractometer Utilizing Dual Sensing Phenomenon.", Journal of Lightwave Technology, Vol. 34, No. 17, September 1, 2016, pp 4186-4193.
Reshma Bharadwaj,,SuparnaMukherjiandSoumyo Mukherji*, "Probing the localized surface plasmon field of gold nanoparticle basedfibreopticbiosensor"  Plasmonics, June 2016, Volume 11, Issue 3, pp 753–761.
Shraddha K. Chauhan, Nirmal Punjabi, D. K. Sharma andS. Mukherji, "A silicon nitride coated LSPR based fiber-optic probe for possible continuous monitoring of sucrose content in fruit juices" Sensors and Actuators B: Chemical ,2016, 222, 1240-1250.
Shekhar Agnihotri, Geetika Bajaj, Suparna Mukherji, Soumyo Mukherji*, "Arginine assisted immobilization of silver nanoparticles on ZnO nanorods: An enhanced and reusable antibacterial substrate without human cell cytotoxicity" Nanoscale 7 (16), 2015, 7415-7429.
Shekhar Agnihotri, Soumyo Mukherji, Suparna Mukherji, "Size-controlled silver nanoparticles synthesized over the range 5-100 nm using the same protocol and their antibacterial efficacy",  RSC Advances 2014,4, 3974-3983.
Shekhar Agnihotri, Soumyo Mukherji, Suparna Mukherji, 'Immobilized Silver Nanoparticles Enhance Contact Killing and Show Highest Efficacy: Elucidation of the Mechanism of Bactericidal Action of Silver' Nanoscale, 2013,5, 7328-7340.
Indian Patent  on "A Dry Method for Surface Modification of SU-8 for Immobilization of Biomolecules using Hotwire Induced Pyrolytic Process".
Indian Patent on "A Microheater based Sensor for Detection of Explosive Chemicals", Inventors: Soumyo Mukherji, Vibhor Khanna, Prasanth Sankar, V.R. Rao, Tushar Verma
Indian Patent, PCT application and US Patent on "Capillary electrophoresis Chips" , Filed.
US Patent on "Polymer Analysis Chip" Filed
US Patent on "Optical Fiber Probe"  (2013).
Indian Patent "Lab-on-a-chip beam-splitter for bio-sensing application", Filed.
Indian Patent "A method and system for velocity measurement of a fluid in a channel" Filed.
Indian Patent "Glucose mediated facile synthesis of well dispersed gold nanoshells" Filed.
Indian Patent "Fiber Optic Probe and a Method for Detection of Nitro  Containing Compounds by using the same", Filed.