Dr. Samir K. Maji
Professor
Phone: +(91-22) 2576 7774
E-mail: samirmaji [at] iitb.ac.in
Location: Room No. 305, BSBE Building
Lab web page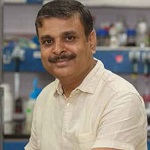 Studying mechanisms of protein mis-folding, aggregation and amyloid formation associated with human neurodegenerative diseases such as Alzheimer's, Parkinson's and Prions.
p53 amyloids in cancer
Understanding the role of amyloid in secretory granules biogenesis in mammalian organs.
De novo design of functional amyloids for drug delivery and tissue engineering
1996: B.Sc (Chemistry) University of Calcutta, Kolkata, WB
1998: M.Sc (Chemistry) University of Calcutta, Kolkata, WB
2002: Ph.D. (Peptide Chemistry) Indian association for The Cultivation of Science, Jadavpur, Kolkata, WB
Biological Thermodynamics and Kinetics, Biophysics Laboratory, Biophysical Chemistry, Topics in Biotechnology
Harvard Medical School and BWH , USA
University of California, Los Angeles, USA
Salk Institute, La jolla, USA
ETH Zurich, Switzerland
Fellow of Royal Society of Chemistry (FRSC) (2021)
Elected as Fellow of National Academy of Science, India (FNASc) (2020).
IIT Bombay Excellence in Teaching Award(2020)
Tata Innovation Fellowship by the Department of Biotechnology (DBT) (2020).
NASI-Reliance Platinum Jubilee Awardfor Application Oriented Innovation in Biological Sciences (2019).
Editorial Board Memberof The Journal of Biological Chemistry (2018).
National Bioscience Award for Career Development, by the Department of Biotechnology 2016
IIT Bombay Research Publication Award for the year 2016
Young researcher award, Lady Tata memorial Trust 2013
Ambuja Navalkar, Ajoy Paul, Arunima Sakunthala, Satyaprakash Pandey, Amit Kumar Dey, Sandhini Saha, Sarthak Sahoo, Mohit K Jolly, Tushar K Maiti, Samir K Maji, (2022), Oncogenic gain of function due to p53 amyloids occurs through aberrant alteration of cell cycle and proliferation, Journal of Cell Science 135(15), jcs259500 Link (First person interview Link)
Debdeep Chatterjee, Reeba S Jacob, Soumik Ray, Ambuja Navalkar, Namrata Singh, Shinjinee Sengupta, Laxmikant Gadhe, Pradeep Kadu, Debalina Datta, Ajoy Paul, Sakunthala Arunima, Surabhi Mehra, Chinmai Pindi, Santosh Kumar, Praful Singru, Sanjib Senapati, Samir K Maji, (2022), Co-aggregation and secondary nucleation in the life cycle of human prolactin/galanin functional amyloids, eLife 11: e73835 Link (BioRxiv Link)
S Ray and SK Maji (2020), Predictable phase-separated proteins. Nature Chemistry, 12:787–789 (invited commentary article) 
S Ray, N Singh, R Kumar, K Patel, S Pandey, D Datta, J Mahato, R Panigrahi, A Navalkar, S Mehra, L Gadhe, D Chatterjee, AS Sawner, S Maiti, S Bhatia, J Gerez, A Chowdhury, A Kumar, R Padinhateeri, R Riek, G Krishnamoorthy and SK Maji, (2020), α‐Synuclein aggregation nucleates through liquid-liquid phase separation. Nature Chemistry , 12:705–716.
A Navalkar, S Ghosh, S Pandey, A Paul, D Datta and SK Maji (2019), Prion-like p53 amyloids in cancer. Biochemistry, 59 (2):146–155.
S Mehra, D Ghosh, R Kumar, M Mondal, LG Gadhe, S Das, A Anoop, NN Jha, RS Jacob, D Chatterjee, S Ray, N Singh, A Kumar, and SK Maji (2018), Glycosaminoglycans have variable effects on α-synuclein aggregation and differentially affect the activities of the resulting amyloid fibrils. Journal of Biological Chemistry, 293(34): 12975-12991.
R Kumar, S Das, GM Mohite, SK Rout, S Halder, NN Jha, S Ray, S Mehra, V Agarwal and SK Maji (2018), Cytotoxic oligomers and fibrils trapped in a gel-like state of α-synuclein assemblies. Angewandte Chemie International Edition, 7(19), 5262-5266.
S Ghosh, S Salot, S Sengupta, A Navalkar, D Ghosh, RS Jacob, S Das, R Kumar, NN Jha, S Sahay, S Mehra, GM Mohite, SK Ghosh, M Kombrabail, G Krishnamoorthy, P Chaudhari, and SK Maji (2017), p53 amyloid formation leading to its loss of function: Implications in cancer pathogenesis.  Cell Death and Differentiation, 24:1784–1798.
S Das, K Zhou, D Ghosh, NN Jha, PK Singh, RS Jacob, C Bernard, D Finkelstein, J Forsythe and SK Maji (2016), Implantable Amyloid Hydrogels for Promoting Stem Cell Differentiation to Neurons. NPG Asia Materials, 8:e304; DOI:10.1038/am.2016.116.
RS Jacob, E George, PK Singh, S Salot, A Anoop, NN Jha, S Sen and SK Maji (2016), Cell Adhesion on Amyloid Fibrils Lacking Integrin Recognition Motif. Journal of Biological Chemistry, 4,291(10):5278-5298.
RS Jacob; D Ghosh; PK Singh; SK Basu; NN Jha; S Das; PK Sukul; S Patil; S Sathaye; A Kumar; A Chowdhury; S Malik; S Sen; SK Maji (2015). Self-Healing Hydrogels Composed of Amyloid Nano Fibrils for Cell Culture and Stem Cell Differentiation. Biomaterials, 54:97-105
S Sahay, D Ghosh, S Dwivedi S, A Anoop, GM Mohite, M Kombrabail, G Krishnamoorthy, SK Maji (2015), Familial Parkinson's disease associated mutations alter the site-specific microenvironment and dynamics of α-Synuclein. Journal Biological Chemistry, 290(12):7804-22
SK Maji, MH. Perrin, MR Sawaya, S Jessberger, K Vadodaria, RA Rissman, PS Singru, KPR Nilsson, R Simon, D Schubert, D Eisenberg, J Rivier, P Sawchenko, W Vale and R Riek (2009) Functional Amyloids as Natural Storage of Peptide Hormones in Pituitary Secretory Granules, Science 325: 328-332.
SK Maji, D. Schubert, JE Rivier, C Rivier, S Lee and R Riek (2008) Amyloid as depot for the formulation of long-acting drugs (2008), PLoS Biology, 6(2):e17.