Dr. Sushil Kumar
Assistant Professor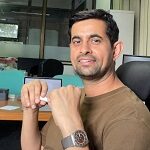 Cancer Biology, Cell signaling, Cancer Biomarkers, Big data analysis
B.Sc. (Biology): Maharaja Ganga Singh University, Bikaner, Rajasthan
M.Sc. (Life Sciences): School of Life Sciences, DAVV, Indore, M.P.
Ph.D. (Immunology and Cancer Biology): IISER Bhopal, Bhopal, M.P. with Prof. Himanshu Kumar
Assistant Professor: School of Biosciences and Bioengineering, IIT Bombay (May 2022 onwards)
Assistant Professor: School of Biosciences and Bioengineering, IIT Roorkee (Nov. 2021- May 2022)
Postdoctoral Fellow: School of Medicine, Uni. of Pennsylvania (June 2019-Nov 2021); With Prof. Fiona Simpkins
Postdoctoral Fellow: School of Veterinary Medicine, Uni. of Pennsylvania (June 2016-Nov 2019); With Prof. Rumela Chakrabarti
Editor/Reviewer responsibilities
Review Editor for "Frontier in Molecular Biosciences" journal

Reviewer for Lancet EBioMedicine, STAR Protocols by Cell Press, International Reviews of Immunology, OncoTargets and Therapy, and Cancer Management and Research.
Research grant from Basser Center, Uni. of Pennsylvania in 2020 worth $250K for two years
International travel awards from DBT Govt of India, DST Govt of India, and The American Association of Immunologists USA in year 2015
NET-JRF from CSIR in 2010
ICAR-ASRB NET in 2010
Ms. Sumana Paul, Ph.D. student
Sushil Kumar, Ajeya Nandi, Snahlata Singh, Rohan Regulapati, Ning Li, John W. Tobias, Christian W. Siebel, Mario Andres Blanco, Andres J. Klein-Szanto, Christopher Lengner, Alana L. Welm, Yibin Kang, and Rumela Chakrabarti. Dll1+ quiescent tumor stem cells drive chemoresistance in breast cancer through NF-κβ survival pathway. Nature Communications (2021).
Sushil Kumar, Ratnesh Kumar Srivastav, David W. Wilkes, Taylor Ross, Sabrina Kim, Jules Kowalski, Srinivas Chatla, Qing Zhang, Anupma Nayak, Manti Guha, Serge Y. Fuchs, Christoforos Thomas & Rumela Chakrabarti. Estrogen-dependent DLL1-mediated Notch signaling promotes luminal breast cancer. Oncogene, 38, pages2092–2107 (2019). doi: 10.1038/s41388-018-0562-z.
Sushil Kumar, David W. Wilkes, Nina Samuel, Mario Andres Blanco, Anupma Nayak, Kevin Alicea-Torres, Christian Gluck, Satrajit Sinha, Dmitry Gabrilovich, and Rumela Chakrabarti. DeltaNp63-driven recruitment of myeloid-derived suppressor cells promotes metastasis in triple-negative breast cancer. The Journal of clinical investigation 2018; 128(11):5095-5109.
Rumela Chakrabarti, Toni Celià-Terrassa*, Sushil Kumar*, Xiang Hang, Yong Wei, Abrar Choudhury, Julie Hwang, Jia Peng, Briana Nixon, John J. Grady, Christina DeCoste, Jie Gao, Johan H. van Es, Ming O. Li, Iannis Aifantis, Hans Clevers and Yibin Kang. Notch ligand Dll1 mediates cross-talk between mammary stem cells and the macrophageal niche. Science 360:4153. *Equally contributing authors. Science (New York, N.Y.). 2018; 360(6396).
Sushil Kumar, Ajeya Nandi, Aakash Mahesh, Satrajit Sinha, Elsa Flores, and Rumela Chakrabarti. Inducible knockout of ∆Np63 alters cell polarity and metabolism during pubertal mammary gland development. FEBS Letters 2019.
Hyoung Kim, Haineng Xu, Erin George, Dorothy Hallberg, Sushil Kumar, Veena Jagannathan, Sergey Medvedev, Yasuto Kinose, Kyle Devins, Priyanka Verma, Kevin Ly, Yifan Wang, Roger A. Greenberg, Lauren Schwartz, Neil Johnson, Robert B. Scharpf, Gordon B. Mills, Rugang Zhang, Victor E. Velculescu, Eric J. Brown, and Fiona Simpkins. Combination PARP and ATR inhibition causes complete and durable responses in PARP inhibitor and platinum resistant ovarian cancer. Nature Communications 2020.
Snahlata Singh, Sushil Kumar, Ratnesh Kumar Srivastava, Ajeya Nandi, Gatha Thacker, Hemma Murali, Sabrina Kim, Mary Baldeon, John Tobias, Mario Andres Blanco, Rizwan Saffie, M. Raza Zaidi, Satrajit Sinha, Luca Busino, Serge Y. Fuchs & Rumela Chakrabarti. Loss of ELF5–FBXW7 stabilizes IFNGR1 to promote the growth and metastasis of triple-negative breast cancer through interferon-γ signaling. Nature Cell Biology 2020.
Christoforos Thomas, Ilias V Karagounis, Ratnesh K Srivastava, Nicholas Vrettos, Fotis Nikolos, Noëlle Francois, Menggui Huang, Siliang Gong, Qi Long, Sushil Kumar, Constantinos Koumenis, Savitri Krishnamurthy, Naoto T Ueno, Rumela Chakrabarti, & Amit Maity. Estrogen receptor β-mediated inhibition of actin-based cell migration suppresses metastasis of inflammatory breast cancer. Cancer Research 2021.
Ashish Kumar, Akhilesh Kumar, Harshad Ingle, Sushil Kumar, Richa Mishra, Mahendra Kumar Verma, Debasis Biswas, Nachimuthu Senthil Kumar, Anamika Mishra, Ashwin Ashok Raut, Akinori Takaoka and Himanshu Kumar (2018). MicroRNA hsa-miR-324-5p Suppresses H5N1 Virus Replication by Targeting the Viral PB1 and Host CUEDC2. Journal of virology 92. doi: 10.1128/JVI.01057-18.
Harshad Ingle*, Sushil Kumar*, Ashwin Ashok Raut, Anamika Mishra, Diwakar Dattatraya Kulkarni, Takeshi Kameyama, Akinori Takaoka, Shizuo Akira, and Himanshu Kumar (2015). The microRNA miR-485 targets host and influenza virus transcripts to regulate antiviral immunity and restrict viral replication. Science signaling 8, ra126. *Equally contributing first authors.
Sushil Kumar, Harshad Ingle, Shalabh Mishra, Ranjeet Singh Mahla, Ashish Kumar, Taro Kawai, Shizuo Akira, Akinori Takaoka, Ashwin Ashok Raut, and Himanshu Kumar (2015). IPS-1 differentially induces TRAIL, BCL2, BIRC3 and PRKCE in type I interferon-dependent and -independent anticancer activity. Cell death & disease 6, e1758.
Sushil Kumar, Harshad Ingle, Durbaka Vijaya Raghava Prasad and Himanshu Kumar (2013). Recognition of bacterial infection by innate immune sensors. Critical reviews in microbiology 39, 229-246. This article is the "most cited and most read article" of the journal.