Dr. Prashant S. Phale
Professor
Phone: +(91-22) 2576 7836
E-mail: pphale [at] iitb.ac.in
Location: Room No. 405, BSBE Building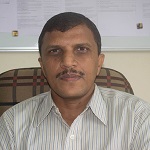 Elucidation of metabolic pathways for degradation of aromatic compounds, Purification and characterization of oxygenases, Preferential utilization of aromatics compounds by Pseudomonas, Metabolic engineering of aromatic degradation pathways 
B.Sc. Ahemadnagar college, University of Poona, Poona (Microbiology)
M.Sc. Maharaja Sayajirao University, Baroda (Biotechnology)
Ph.D. Indian Institute of Science, Bangalore (Microbiology)
Analytical Biochemistry, Biochemistry Laboratory, Microbiology Laboratory
Associate Professor: School of Biosciences & Bioengineering, IIT Bombay
Assistant Professor : School of Biosciences & Bioengineering, IIT Bombay
Post Doctoral Research Fellow: Harvard Medical School, Boston, USA
Post Doctoral Fellow: Biozentrum, University of Basel, Switzerland  
Life member of:

National Academy of Sciences, India
Society of Biological Chemists, India
Association of Microbiologist of India
Biotechnology Research Society of India
Trivedi VD, Jangir PK, Sharma R,& Phale PS (2016) Insights into functional and evolutionary analysis of carbaryl metabolic pathway from Pseudomonas strain C5pp. Sci. Rep. 6, 38430; doi: 10.1038/srep38430.
Pandey S, Modak A, Phale PS*& Bhaumik P* (2016) High resolution structures of periplasmic glucose binding protein of Pseudomonas putida CSV86 reveal structural basis of its substrate specificity. J Biol Chem 291:7844–7857;  *Corresponding authors
Paliwal V, Raju SC, Modak A,Phale PS & Purohit HJ (2014) Pseudomonas putida CSV86: A candidate genome for genetic bioaugmentation. PLoS One 9(1):e84000. doi: 10.1371/journal.pone.0084000.
Modak A, Bhaumik P & Phale PS(2014) Periplasmic glucose binding protein from Pseudomonas putida CSV86: Identification of the glucose binding pocket by homology-model-guided site-specific mutagenesis. FFEBS J 281:365-375.
Singh R, Trivedi VD & Phale PS(2013) Metabolic regulation and chromosomal localization of carbaryl degradation pathway in Pseudomonas strains C4, C5 and C6. Arch Microbiol 195:521-535.
ShrivastavaR, Basu B, Godbole A, MathewMK, ApteSK & Phale PS(2011) Repression of glucose inducible outer membrane protein, OprB, during utilization of aromatic compounds and organic acids in Pseudomonas putida  Microbiology 157:1531-1540.
Sah S & Phale PS(2011) 1-Naphthol 2-hydroxylase from Pseudomonas strain C6: purification, characterization and chemical modification studies. Biodegradation 22:517-526.
BVamsee-Krishna C & Phale PS(2010) Bypassing isophthalate inhibition by modulating glutamate dehydrogenase: purification and kinetic characterization of NADP-GDHs from isophthalate degrading Pseudomonas aeruginosa strain PP4 and Acinetobacter lwoffii strain ISP4. J Bacteriol 192:801–806.
Deveryshetty J, & Phale PS(2009) Biodegradation of phenanthrene by Pseudomonas, strain PPD: purification and characterization of 1-hydroxy 2-naphthoic acid dioxygenase. Microbiology 155:3083-3091.
Basu A, ShrivastavaR, BasuB, ApteSK & PhalePS(2007) Modulation of glucose transport causes preferential utilization of aromatic compounds in Pseudomonas putida  J Bacteriol 189:7556-7562.
Swetha VP, Basu A & Phale PS(2007) Purification and characterization of 1-naphthol-2-hydroxylase from carbaryl degrading Pseudomonas strain C4. J Bacteriol 189:2660-2666.
Vamsee-Krishna C, Mohan Y & Phale PS(2006) Biodegradation of phthalate isomers by Pseudomonas aeruginosa PP4, Pseudomonas PPD and Acinetobacter lwoffii ISP4. Appl Microbiol Biotechnol 72:1263-1269.
Basu A, Apte SK & Phale PS(2006) Preferential utilization of aromatic compounds over glucose by Pseudomonas putida Appl Environ Microbiol 72:2226-2230.
Swetha VP & Phale PS(2005) The metabolism of carbaryl via 1,2-dihydroxy naphthalene by soil isolates, Pseudomonas  strain C4, C5 and C6. Appl Environ Microbiol 71:5951-5956.
Prabhu Y & Phale PS (2003) Biodegradation of phenanthrene by Pseudomonas sp. strain PP2: novel metabolic pathway, role of biosurfactant and cell surface hydrophobicity in hydrocarbon assimilation. Appl Microbiol Biotechnol 61:342-351.
The metabolic pathways contributed to 'The University of Minnesota Biocatalysis/Biodegradation Database'