Dr. Kiran Kondabagil
Professor
Phone: +(91-22) 2576 7758
E-mail: kirankondabagil [at] iitb.ac.in
Location: Room No. 601, BSBE Building
Lab web page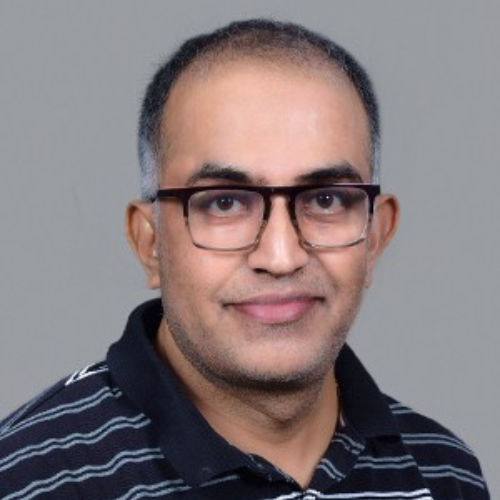 Origin and evolution of viruses
Molecular mechanisms of DNA replication, repair and packaging in giant viruses and bacteriophages
Environmental virology and virus ecology
Ph.D in Biochemistry from CSIR-CFTRI/University of Mysore 
Genetic Engineering, Evolutionary Biology, Genomics and Proteomics, Virology
Pre-doctoral Research Associate: Immuno-modulation research center, University of Ulsan, Ulsan, South Korea
Post-doctoral Fellow: The Catholic University of America, Washington DC
Assistant Professor (Research  Track): The Catholic University of America, Washington DC
Assistant Professor,  Department of Biosciences and Bioengineering, IIT Bombay
Associate Professor, Department of Biosciences and Bioengineering, IIT Bombay
Lakshmi Kavitha Sthanam, Tanusri Roy, Sejal Patwardhan, Avi Shukla, Shipra Sharma, Pradip V.Shinde, Hanuman Tulasiram Kale, P.Chandra Shekar, Kiran Kondabagil, Shamik Sen. MMP modulated differentiation of mouse embryonic stem cells on engineered cell derived matrices, Biomaterials, 280:121268, 2022.
Shruti Ahuja, M. Santhosh Kumar, Ruchira Nandeshwar, Kiran Kondabagil & Siddharth Tallur. Longer amplicons provide better sensitivity for electrochemical sensing of viral nucleic acid in water samples using PCB electrodes. Scientific Reports 12: 8814, 2022.
Amrutraj Zade, Sanchi Shah, Nilma Hirani, Kiran Kondabagil, Ameeta Joshi, Anirvan Chatterjee. Whole-genome sequencing of presumptive MDR-TB isolates from a tertiary healthcare setting in Mumbai. Journal of Global Antimicrobial Resistance. 31: 256-262, 2022.
Shailesh B. Lad, Shomdutta Roy, Jijo Easo George, Himadri Chakraborti, Saumitra Lalsare, Bikash Barik, Arushi Singh, Amrutraj Zade, Sachee Agrawal, Jayanthi Shastri, Anirvan Chatterjee, Kantimay Das Gupta, Debjani Paul and Kiran Kondabagil. Development of a PNA–DiSc2 based portable absorbance platform for the detection of pathogen nucleic acids. Analyst, 23, 2022.
Kumar MS, Nandeshwar R, Lad SB, Megha K, Mangat M, Butterworth A, Knapp CW, Knapp M, Hoskisson PA, Corrigan DK, Ward AC, Kondabagil K#, Tallur S#. Electrochemical sensing of SARS-CoV-2 amplicons with PCB electrodes, Sensors and Actuators B: Chemical, 343:130169, 2021.
Chaudhari H, Inamdar M#, Kondabagil K# Scaling relation between genome length and particle size of dsDNA viruses provides insights into viral life history. iScience 24:102452, 2021.
Patil S, Kondabagil K. Co-evolutionary and phylogenetic analysis of Mimiviral replication machinery suggest the cellular origin of Mimiviruses. 2021; Molecular Biology and Evolution. 38(5): 2014-2029, 2021.
Sharma S, Kumari V, Kumbhar BV, Mukherjee A, Pandey A and Kondabagil K. Immunoinformatics approach for a novel multi-epitope subunit vaccine design against various subtypes of Influenza virus. Immunobiology. 226(2):152053, 2021.
Kondabagil K, Sicheritz-Pontén T, Clokie MRJ. inPhocus: A local perspective on phage-based biocontrol in agriculture and aquaculture in India. PHAGE. 1(4), 169-173, 2020.
Sharma S, Chatterjee A, Kumar P, Lal S, Kondabagil K. Upregulation of miR-101 during Influenza A Virus Infection Abrogates Viral Life Cycle by Targeting mTOR Pathway. Viruses. 12(4):444, 2020.
Sadani K, Muthuraj L, Nag P, Fernandes M, Kondabagil K, Mukhopadhyay C, Mukherji S. A point of use sensor assay for detecting purely viral versus viral-bacterial samples. Sensors and Actuators B: Chemical. 322:128562, 2020.
Gupta A, Lad SB, Ghodke PP, Pradeepkumar PI, Kondabagil K. Mimivirus encodes a multifunctional primase with DNA/RNA polymerase, terminal transferase and translesion synthesis activities. Nucleic Acids Res. 47(13):6932-6945, 2019; COVER PAGE ARTICLE.
Sadani, K., Kondabagil, K., Mukherji, S. "Method of detection and differentiation of bacteria and viruses in samples", Indian Patent Application No. 202021002188, 2020.
Ruchira Nandeshwar, Siddharth Tallur, Kiran Kondabagil Electrochemical detection of proteins and other biological analytes with printed circuit board electrodes. Ruchira Nandeshwar, Siddharth Tallur, Kiran Kondabagil Indian Patent Application No. 20211022040, 2021.