Dr. Prasenjit Bhaumik
Associate Professor
Phone: +(91-22) 2576 7748
E-mail: pbhaumik [at] iitb.ac.in
Location: Room No. 603, BSBE Building
Lab web page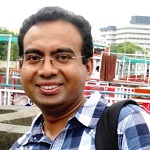 Understanding the structure function relationship of enzymes and biological macromolecules. Protein crystallography, Structure based antimalarial drug development, Structural enzymology
B.Sc. (Chemistry), 1997: University of Calcutta, Kolkata, India
M.Sc. (Biotechnology), 1999: Indian Institute of Technology-Bombay, Mumbai, India
Ph.D. (Biochemistry), 2006: University of Oulu, Oulu, Finland
Postdoctoral Fellow (October 2006 – August 2011): National Cancer Institute at Frederick, NIH, USA
Assistant Professor: Department of Biosciences and Bioengineering, IIT Bombay
Introduction to Bionanotechnology, Biomaterials, Advanced Biomaterials, Physiology for Engineers.
Poster prize winner, 40th Mid-Atlantic Protein Crystallography Meeting, USA, 2010
Fellows Award for Research Excellence (FARE) award from the NIH, 2009
Travel award from American Society of Biochemistry and Molecular Biology (ASBMB), 2009
Postdoctoral fellowship from National Cancer Institute, NIH, USA, 2006-2011
Ph.D. scholarship from Biocenter Oulu, University of Oulu, Finland, 2000-2006
Poster prize winner, Third Annual Conference of the Indian Environmental Association (IEA), 2000
National merit scholarship from DBT, Govt. of India, 1997-1999
Bryksa, B. C., Bhaumik, P., Magracheva, E., De Moura, D. C., Kurylowicz M., Zdanov, A., Dutcher, J. R., Wlodawer, A. and Yada, R. Y. (2011) Structure and mechanism of the saposin-like domains of a plant aspartic protease. The Journal of Biological Chemistry 286:28265-28275.
Bhaumik, P., Gustchina, A. and Wlodawer, A. (2011) Structural studies of vacuolar plasmepsins. Biochimica et Biophysica Acta. doi:10.1016/j.bbapap.2011.04.008.
Bhaumik, P., Xiao, H., Parr, C., Kiso, Y., Gustchina, A., Yada, R. Y. and Wlodawer, A. (2009) Crystal structure of Histo-aspartic protease (HAP) from Plasmodium falciparum. Journal of Molecular Biology 388:520-540.
Bhaumik, P., Schmitz, W., Hassinen, A., Hiltunen, J. K., Conzelmann, E. and Wierenga, R. K. (2007) The catalysis of the 1,1-proton transfer by α-methyl-acyl-CoA racemase is coupled to a movement of the fatty acyl moiety over a hydrophobic, methionine-rich surface. Journal of Molecular Biology 367:1145-1161.
Bhaumik, P., Koski, M. K., Bergmann, U. and Wierenga, R. K. (2004) Structure determination and refinement at 2.44 Å resolution of argininosuccinate lyase from Escherichia coli. Acta Crystallographica Section D-Biological Crystallography 60:1964-1970.