Dr. Jayadeva Bhat
Professor
Phone: +(91-22) 2576 7772
E-mail: jayadeva [at] iitb.ac.in
Location: Room No. 403, BSBE Building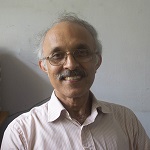 After joining IIT Bombay in 1993, research activities were initiated in three different areas of basic biology. The idea was to use Saccharomyces cerevisiae as an experimental organism to address problems pertaining to (a) Functional Genomics (b) Epigenetic Regulation of Gal Genetic Switch and (c) Human Diseases. 
Ph.D., 1985, Indian Institute of Science (IISc), Bangalore, India.
Post Doctoral Fellow, 1986-1993, Hershey Medical Center, Penn. State University.
Genetic engineering, Metabolism & regulation, Topics in Biotechnology.
Assistant Professor, 1993-1997, IIT Bombay.
Associate professor, 1997 – 2003, IIT Bombay.
Professor, 2003, IIT Bombay.
Akshay Kumar DasAdhikari, Mohd. Tanvir Qureshi, Rajesh Kumar Kar, and P.J. Bhat (2014). "Perturbation of the interaction between Gal4p and Gal80p of the Saccharomyces cerevisiae GAL switch results in altered responses to galactose and glucose". Molecular Microbiology 94 :202-217
Rajesh Kumar Kar, Md. Tanvir Qureshi, Akshay Kumar DasAdhikari, Tayeb Zahir, K. V. Venkatesh and P.J. Bhat (2014). "Stochastic galactokinase expression underlies GAL gene induction in a GAL3 mutant of Saccharomyces cerevisiae". FEBS J. 281: 1798-1817
Can Metabolic Plasticity be a Cause for Cancer? Warburg-Waddington Legacy Revisited. Bhat, P.J. Darunte, D, Venkatesh, K.V., Dandekar, J. Kumar, A. Clinical Epigenetics (In press)
Pannala, V. R., Bhat, P. J., Bahartiya, S and Venkatesh, K. V. (2009). Systems Biology of GAL Regulon in Saccharomyces cerevisiae. Wiley Interdisciplinary Reviews: Systems Biology and Medicine.
Iyer, R.S., and Bhat, P. J. (2009) Epigenetics of the yeast Galactose genetic switch J. Biosc 34(4) 513-522
Iyer, R.S., Das, M., and Bhat, P. J. (2008) Pseudohyphal differentiation defect due to mutations in GPCR and ammonium signaling is suppressed by low glucose concentration: A possible regulated role for carbon and nitrogen metabolism (2008). Current Genetics 54:71-81
Vinod, P.P., Sengupta, N., Bhat, P. J. and Venkatesh, K. V. Integration of global signaling pathways, cAMP-PKA, MAP and TOR in the regulation of FLO11. (2008) PLoS One 3(2):e1663
Tiwari, A. and Bhat, P. J. Molecular characterization reveals that YMR278w encoded protein is environemental stress response homologue of Saccharomyces cerevisiae PGM2 (2008) Biochem. Biophys. Res. Comm. 366: 340-345
Verma, M., Rawool, S., Bhat, P. J. and Venkatesh, K. V. Biological significance of autoregulation through steady state analysis of genetic networks (2006) Biosystems. 84(1): 39-48
Galactose Regulon of Yeast: From Genetics to Systems Biology (Springer Verlag GmBH)
DST , CSIR , BRNS (India) The Welcome Trust (UK), NSF (USA) FWF(Austria)