Dr. Rinti Banerjee
Professor
Phone: +(91-22) 2576 7868
E-mail: rinti [at] iitb.ac.in
Location: Room No. 503, BSBE Building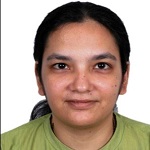 Nanomedicine: nanostructured biomaterials, nanotechnology platforms for drug delivery and therapeutics, pulmonary surfactants, cancer nanotechnology, liposomes and lipid self assembled nanostructures.
M. B. B. S, B J Medical College, Pune
Ph.D. Biomedical Engg., IIT Bombay.
Post Doc, University of California, San Francisco
Introduction to Bionanotechnology, Biomaterials, Advanced Biomaterials, Physiology for Engineers.
Professor, Department of Biosciences & Bioengineering, IIT Bombay since February 2009 – Present.
Associate Professor, Department of Biosciences & Bioengineering, IIT Bombay, 2005 – 2009.
Assistant Professor, Department of Biosciences & Bioengineering at IIT Bombay 2001-2005.
National Woman Bioscientist Award 2011
Indo American Frontiers Of Engineering Award 2010
Felicitation Award, Society for Cancer Research & Communication 2009
AICTE Career Young Teacher Award 2005-2006
Life Member, National Academy of Sciences India
Associate Editor, J of Biomaterials & Tissue Engineering, (Am. Sc. Pub)
Editorial Board Member, Drug Delivery and Translational Research, (Springer)
Editorial Board Member, Chair Nanobiotechnology, Computational and Structural Biotechnology
Editorial Board Member, Engineering and Technology, Inventi Journals
Editorial Board Member, Biomaterials and Biodevices
Editorial Board Member, International Journal of Advanced Biotechnology & Bioinformatics
Editorial Board Member, Trends in Biomaterials and Artificial Organs
Editorial Board Member, NanoTrends, India
Editorial Board Member, International Journal of Life Sciences & Pharmaceutical Research
Editorial Board Member, World Journal of Respirology
Senior Editor International, Ch. J. Clinicians
Joshi N, Saha R, Thanigaivel S, Balakrishnan B, More P, Banerjee R Carboxymethylchitosan tethered lipid vesicles-hybrid nanoblanket for oral delivery of paclitaxel Biomacromolecules (2013)
Banerjee R Nanotechnology: a versatile aid in our fight against AIDS Editorial Nanomedicine 2013, 8 (5), 675-677
Kaviratna A, Banerjee R Nanovesicle aerosols as surfactant therapy in lung injury. Nanomedicine: Nanotechnology Biology and Medicine  2012, 8 (5), 665-672
Banerjee R Editorial Nanoparticle aerosols: boon or bane for breathing? Nanomedicine 2012, 7(6), 795-8.
Balakrishnan B, Banerjee R Biopolymer based hydrogels for cartilage tissue engineering. Chemical Reviews (2011) 111(8):4453-4474
Joshi N, Thanigaivel S, Kaviratna A, Banerjee R. Proapoptotic lipid nanovesicles: synergism with paclitaxel in human lung adenocarcinoma A549 cells. J. Control. Rel. (2011)
Banerjee R Editorial Trigger responsive nanoparticles: control switches for cancer therapy. Nanomedicine, 2011, 6, 10, 1657-1660.
Shruti Guha Sarkar, R Banerjee. Intravesical drug delivery: challenges, current status, opportunities and novel strategies. J Control. Rel.  (2010), 148, 147-159.
Pradhan P, Giri J, Rieken F, Koch C, Mykhaylyk O, Doblinger M, Banerjee R, Bahadur D, Plank C. Targeted temperature sensitive magnetic liposomes for thermochemotherapy. J. Control. Rel. 2010, 142(1), 2010, p 108-121.
Chandanshiv B, Dyondi D, Ajgaonkar V B, Banerjee R, Khushalani D. Biocompatible calcium phosphate based tubes.  Journal of Materials Chemistry 2010, 20, 6923-6928.
Banerjee R Nanotechnology Perspectives in the Diagnosis and Treatment of Cancers Edited Book, Society of Cancer Research and Communications, Narosa International, 2012.
Gogoi, M.; Jaiswal, M. K., Banerjee, R., Bahadur D. Magnetic liposomes and hydrogels towards cancer therapy. In: Introduction toMagnetic Nanoparticles from Fabrication to Clinical Applications. Thanh NTK (Ed.), CRC press London  (2012) 479-498.
Banerjee R "Nanobiomaterials for Ocular applications" In Nanobiomaterials Handbook editor Sitharaman B, CRC Press, Taylor and Francis, Boca Raton, FL(2011) 15-1-15-16.
 
Banerjee R, Kaur S Nanovesicle- biopolymeric nanoparticle hybrids for combination drug delivery in cancers 957/MUM/2013
Banerjee R, S Guhasarkar Hydrogel linked nanocarrier systems for intravesical drug delivery 985/MUM/2013
Banerjee R Nanoparticle based cosmetic composition 2695/MUM/2011
Banerjee R, Thanigaivel S, Chakravarty S. Nanocochleate nanosphere complexes 2190/MUM/2011
Banerjee R. Oxidatively stable bioassimilable microencapsulated iron 1560/MUM/2011
Banerjee R, Joshi N. Conjoined lipid based multicompartment nanovesicles for drug delivery 672/MUM/2011
Banerjee R, Thanigaivel S, Joshi N, Mohurle S, Balakrishnan B. Lipopolymeric nanocapsules for delivering hydrophobic drugs 266/MUM/2011
Banerjee R, S Guhasarkar. Self assembled nanostructured saliva substitutes. Prov. 105/MUM/2011